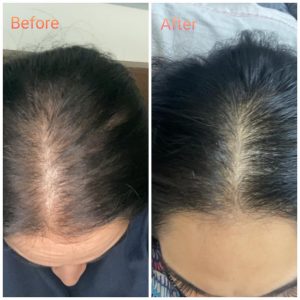 Hair is a crucial aspect of your identity since it gives you confidence and makes you feel better about yourself. But what if you are experiencing severe hair loss, with hair products or home treatments being ineffective or yielding minor results? What you need is a safe and effective therapy like the QR 678 hair treatment, which can help you regain your hair.  
Jata Hair Sciences provides end to end hair solutions and has hence introduced the QR 678 ®, a best hair loss treatment without any side effect.
QR 678 ® is a 'Made in India' composition that has earned an international reputation for generating the most effective, efficient outcomes faster than any other surgical or non-surgical hair restoration therapy available today. 
How QR 678 hair treatment works
QR 678 contains polypeptides found in hair-filled scalps (they get decreased in scalps which have hair fall). Hair growth is caused by the enrichment of the scalp skin with these polypeptides. 
The QR 678 ® therapy stops hair loss and enhances the thickness, quantity, and density of remaining hair follicles. Because, of this those who suffer from alopecia are able to enjoy better coverage of hair.
 Benefits of QR 678 hair treatment
Jata Hair Sciences would like you to go for QR 678 as it is an effective hair loss treatment without any side effect but tremendous benefits.
It is a best medicine for hair fall and regrowth that is effective in both male and female pattern baldness, as well as post-hair transplant instances. This therapy is apparently outperforming hair transplant surgery in early cases of hair loss (Norwood Grade I-III). The QR 678 treatment is particularly effective in male pattern baldness and female pattern hair loss.
The QR 678 hair treatment has also shown promising results in the treatment of post-chemotherapy caused hair loss, hair problems such as seborrheic dermatitis, and immunogenic illnesses such as alopecia areata.
The Drugs Controller General of India (DCGI) in 2021 authorized QR 678 as a safe and effective hair loss treatment. The Center for Drug Evaluation and Research (CDER) has also evaluated the therapy's effectiveness and efficacy. 
In fact, Dr Vinay Chouksey and his team at Jata Hair Sciences have been practicing QR678  hair treatment and finding promising results with this therapy.
You can receive Qr678 directly at your residence for home based treatment. Jata Hair Sciences will be glad to send you a procedure video of the treatment for your understanding.