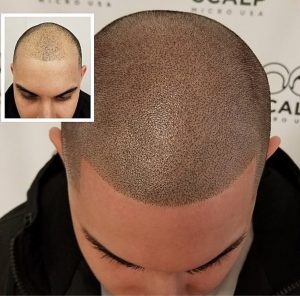 Hair loss is a typical issue that both men and women face. There are dozens of hair loss treatments that work for some people but not for others. As a result, determining which therapies are best for you can be difficult.
Jata Hair Sciences recommends Scalp micro pigmentation (SMP), as a procedure that provides a novel and long-term camouflage from baldness.
What is scalp micro pigmentation?
Scalp micro pigmentation, also called a "hairline tattoo" or "scalp tattoo," is a sophisticated cosmetic procedure. A trained specialist inserts pigment into the bald area using micro-needles, during the procedure. The hair pigmentation will provide the illusion of a shaved, natural head of hair.
The typical course of a SMP procedure is as follows: During the initial consultation, technicians will decide the appropriate pigment shade and the type of hairline you desire.
The first scalp micro pigmentation treatment is provided after that. Each area will be treated with the pigment. The second treatment is usually administered a week or two later. More pigment will be used to get the required color and density. Each treatment session in SMP may last between three and five hours. If a third treatment is required, the pigment will be applied once more to complete the effect.
The results of SMP
Scalp micro pigmentation gives most men the look of a freshly shaved head. The hairline can change depending on your natural hair pattern, but it can typically be anything you choose, including something youthful like the "edge-up." The shaved appearance of scalp micro pigmentation resembles actual hair; no one will suspect it is a hairline tattoo.
Is SMP an effective hair loss solution?
Scalp micro pigmentation is a cost-effective, long-term solution if you are suffering from hair loss and thinning. You can have the permanent appearance of a full head of hair—just shaved—by having pigment implanted into your skin.
Although SMP, like a conventional tattoo, is permanent, the pigment may begin to fade after three to five years and may require touch-ups every five years or so. But, this depends on the quality of the procedure that you had initially gone through. Hence, it is worthwhile to conduct research and take the time to identify a highly trained practitioner or clinic like Jata Hair Sciences where experts provide the treatment.
The high-quality SMP procedure that you will undergo under the care of Dr. Vinay and his team at Jata Hair Sciences will make it look perfectly natural and last for many years.